Dakota/Durango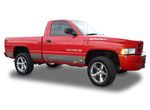 Offer ends 2/28/15!
Click Here for Rebate Form.
Dodge Air Lift Air Bag Kits.
Not sure which air bag kit is right for you?
A Load Lifter 5000 is a Heavy Duty Air Kit for up to 5,000 lbs of load-leveling capacity. Great for construction workers and other commercial forms of towing.
A Ride Controll kit provides stability and ride comfort. This provides up to 2,000 lbs of load-leveling capacity.
An Air Lift 1000 helps to even out loads. The front end applications can provide support for the use of a plow, winches and other front end attachments.