4" 2014-2017 GM Forged Steel 1500 Performance Lift Kit
Details
GM's redesign of the newer model retains the front Coilover Control Arm suspension configuration of the 2007-2017 platform but in three new versions. Make sure you verify which type of factory suspension you have to insure that you order the right system for your vehicle.
Forged Black Steel Upper Control Arms: 2007-2017 vehicles come with forged black steel steering knuckles with forged steel upper and lower control arms.
Stamped Black Steel Upper Control Arms: 2016-2017 vehicles come with stamped black steel steering knuckles with stamped steel upper and lower control arms.
Forged Aluminum Upper Control Arms: 2014-2016 vehicles come with forged aluminum steering knuckles and aluminum upper and lower control arms.
Standard Shocks vs. MagneRide: 2015-2016 Sierra 1500 Denali pickups will come with magnetically controlled shock absorbers. Some late 2014 models do have MagneRide. Other vehicles will come with standard shocks.
Verify before purchase that you have picked the right suspension lift kit for your vehicle.
As a safe guard to ordering the correct version, you should visually check your vehicle's factory suspension before you order a lift kit. GM may change what trucks they outfit with the Steel or Aluminum component version at anytime!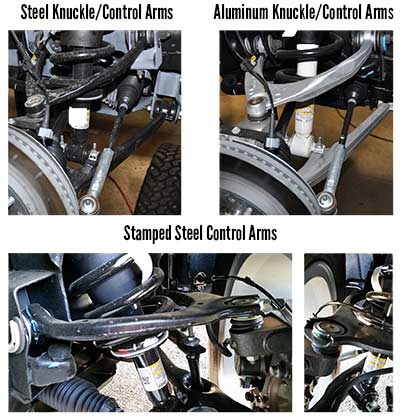 This system offers a mild lift height with easy installation for clearance of 33 inch tall tires. Lift is accomplished by utilizing the factory front Coilover shocks with steel spacer system that helps retain the stock ride of the front suspension. The stock upper control arms are replaced with high quality tubular Uniball arms that allowe unrestricted movement throughout the travel range.
The arms are constructed of top quality materical including .120 inch wall 4130 Chromoly tubing with a 1.5 inch OD and 1 inch FK stainless PTFE Uniballs. These arms are the best ont he market for aggressive offroad driving in harsh conditions.
The front differential is relocated to keep CV angles proper with the new lift height while a 1/4 inch thick steel skid plate provides protection against offroad obstacles.
Rear lift is accomplished with a 1 1/2 inch rear block and u-bolts to help level the stance of the vehicles. Performance rear shock absorbers replace the stock units for increased damping.
Features:
- Increased ground clearance
- Top quality Uniball Upper Control Arms for aggressive offroad use
- 1 inch ID American made FK Uniballs with PTFE for ultimate strength
- Increased fender clearance compared to a leveling kit for 33 inch tall tires
- Suspension can be restored to stock
Tires:
- Use 33/12.5R7 tire w/ 17x8 wheels w/ 4.5 inch BS w/ minor trimming
- Use 275/65R18 tire w/ 18x8 wheels w/ 4.5 inch BS w/ minor trimming
- Use 295/55R20 tire w/ 20x9 wheels w/ 5 inch BS w/ minor trimming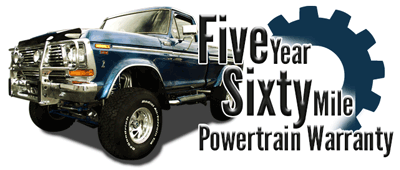 Installation Instructions
Additional Information
Item Number
fab_k1062
Manufacturer Part Number
K1062
MPN(UPC)
674866037359
Important Notes
Will not fit models with Factory AutoRide shocks.
Fits with Forged Steel Suspension only.
Will not fit all wheel drive models.
Cannot use OEM wheel and tire.
Does not fit standard cab.
Manufacturer
Fabtech
Make
Chevy, GMC
Model
1500 Pickup, 1/2 ton Pickup, C10 Pickup, C1500 Pickup, K10 Pickup, K1500 Pickup, 1500 Silverado, 1500 Sierra
Year Spans
2014,2015,2016,2017
2WD/4WD
2WD, 4WD
Special
Call for Price Match!