Stage I Lift Kit w/ Rear ES9000 Shocks
Details
GM's redesign of the newer model retains the front Coilover Control Arm suspension configuration of the 2007-2017 platform but in three new versions. Make sure you verify which type of factory suspension you have to insure that you order the right system for your vehicle.
Forged Black Steel Upper Control Arms: 2007-2017 vehicles come with forged black steel steering knuckles with forged steel upper and lower control arms.
Stamped Black Steel Upper Control Arms: 2016-2017 vehicles come with stamped black steel steering knuckles with stamped steel upper and lower control arms.
Forged Aluminum Upper Control Arms: 2014-2016 vehicles come with forged aluminum steering knuckles and aluminum upper and lower control arms.
Standard Shocks vs. MagneRide: 2015-2016 Sierra 1500 Denali pickups will come with magnetically controlled shock absorbers. Some late 2014 models do have MagneRide. Other vehicles will come with standard shocks.
Verify before purchase that you have picked the right suspension lift kit for your vehicle.
As a safe guard to ordering the correct version, you should visually check your vehicle's factory suspension before you order a lift kit. GM may change what trucks they outfit with the Steel or Aluminum component version at anytime!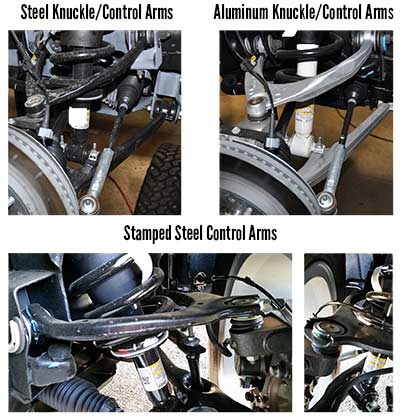 This Pro Comp suspension system is engineered to deliver amazing performance both on and off-road. It provides room for up to 35 inch tall tires, gives the truck a more aggressive stance and is 100% compatible with factory StabiliTrak electronic stability control system. This system also qualifies for Pro Comp's FREE Lift Shield 5 year / 60,000 mile powertrain warranty when installed by a Pro comp Authorized Installer.
Kit Features:
- Front Spacer / Rear ES9000 shocks
- Front/Rear Crossmembers
- Spindles
- Front Sway Bar Links
- Bump Stops
- Torsion Bar Drop Brackets
- Steering Correction: Steering Drop/Centerlink
- Brake Line Extension Brackets
- Rear Blocks/U-Bolts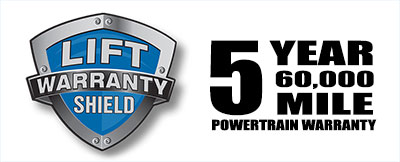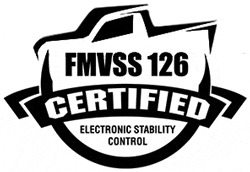 Pro Comp is proud to announce that it has tested and successfully passed the Federal Motor Vehicle Safety Standard (FMVSS 126) test. This highly specialized test was performed to show that the installation of a Pro Comp 6" suspension system, Pro Comp wheels and 35 inch Pro Comp Tires on a 2014 GM 1500 4wd would not compromise the performance and effectiveness of the vehicle's Electronic Stability Control system.
Installation Instructions
Additional Information
Item Number
pcs_k1154b
Manufacturer Part Number
K1154B
Important Notes
For use on vehicles with OE Cast Steel Knuckles.
Only fits Factory Steel Suspension.
Manufacturer
Pro Comp
Make
Chevy, GMC
Model
1500 Pickup, 1/2 ton Pickup, K10 Pickup, K1500 Pickup, 1500 Silverado, 1500 Sierra
Year Spans
2014,2015,2016
2WD/4WD
4WD
Special
$200 Mail-In Rebate!
Shipping Sale
Free Shipping!