Stage I Lift Kit w/ ES9000 Shocks
Details
Being a powerful work horse for years, the F150 is more popular than ever. But all work and no play makes for a boring truck. Pro Comp has taken the "work" out of installing a 6" suspension system by incorporating one-piece drop-down cross members and high strength extended steering knuckles. These are combined to make installation easy and preserve factory suspension and steering geometry.
Stage I systems are available with spacers for the factory front struts and ES9000 rear shock absorbers to deliver factory ride quality. Less work. More play. It's good for the truck. It's good for the soul.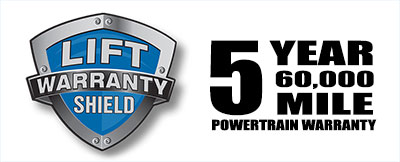 Installation Instructions
Additional Information
Item Number
pcs_k4138b
Manufacturer Part Number
K4138B
MPN(UPC)
614901125566
Important Notes
CV style front drive shaft part # 52208 is recommended for extended high speed use in 4x4 HI.
Pro Comp recommends ordering spindle nut kit part # 90-4116B.
Ford recommends not to reuse the original spindle nuts.
Give us a call if you have any questions on these parts.
Manufacturer
Pro Comp
Make
Ford
Model
F150
Year Spans
2004,2005,2006,2007,2008
2WD/4WD
2WD
Special
$200 Mail-In Rebate!