Ram 2500/3500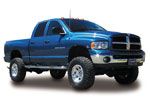 Body Lift Kits are typically 1, 2 or 3 inch lift kits that lift the body from the frame using blocks or spacers. These kits are generally inexpensive. They increase the height of your wheel wells by raising the body and allow for those bigger tires!
Click to learn the difference between Sport and Non-Sport.
We highly recommend Gap Guards to go with these kits!