GM 1500 Pickup Leveling Kits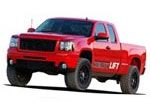 Many vehicles come stock with their nose down, like a stink bug! If you don't like this look, order a leveling kit to lift your vehicle! Most lift kits will lift and level out your entire truck, but if you're looking for a cheaper way to get level, then these are the kits are what we recommend for your Silverado / Sierra /1500 Pickup Trucks.
There are no products matching the selection.