1983-2004 S-Series Pickup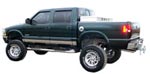 1983-2004 Chevy/GMC 4WD S-Series Pickup Suspension Lift Kits. We carry reputable brands such as our very own Jack-It brand, helping you get it done right the first time, and providing you with custom fit lift kit applications for your S-Series pickup.
There are no products matching the selection.