Details
Our 2012 Dodge 1500 6 inch system features Fabtech's proven IFS technology with extended length steering knuckles for proper factory electronic stability control functionality. Heavy duty 1/4 inch thick steel lower control arm crossmembers provide superior ground clearance while the integrated front differential skid plate adds protection to the drive train.
In the Basic system lift is accomplished via a steel coilover shock spacer system retaining the stock ride characteristics of the vehicle.
Rear lift is accomplished with replacement performance coil springs along with new upper and lower link arms for the proper pinion angle without loss of ground clearance.
Derived from our desert racing experience, the Dirt Logic 2.5 Coilover is an exceptional performance shock that has been developed for a variety of Coilover applications. The Dirt Logic 2.5 will provide incredible dampening capacity for aggressive offroad driving.
Front Dirt Logic 2.5 Coilovers Shock Features:
- 2.5 inch OD Steel Body
- 2.25 inch OD Billet Aluminum Piston
- 7.8 inch Induction Hardened Chrome Piston Rod
- Adjustable Coilover Construction
- 5/8 inch Spherical Ball or Urethane Mounting Ends
- Optional 2.25 inch OD Reservoir w/ 8 stainless steel o-ring hose
- Black Anodized Finish
The new standard in large diameter mono tube shocks for lifted applications in the OE position as well as multiple shock applications, the 2.25 provides unparalled shock performance. Available with and without reservoir the Dirt Logic 2.25 offers a supple highway ride with outstanding offroad dampening.
Rear Dirt Logic 2.25 Non-Resi Shock Features:
- 2.25 inch OD Steel Body
- 2.0 inch OD Billet Aluminum Piston
- 7/8 inch Induction Hardened Chrome Piston Rod
- Polyurethane Mounting Ends
- Optional 2.25 inch OD Reservoir w/ 8 stainless steel o-ring hose
- Black Anodized Finish
Tire Fitment:
- Use 325/65R18 tires w/ 18x9 wheels w/ 5 inch BS w/ minor trimming
- Use 35/13.50R18 tires w/ 18x9 wheels w/ 5 inch BS w/ minor trimming
- Use 35/12.50R20 tires w/ 20x10 wheels w/ 4.5 inch BS w/ minor trimming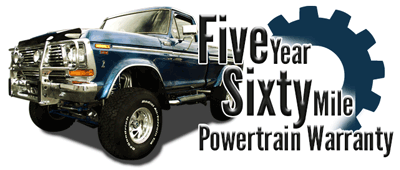 Installation Instructions
Additional Information
| | |
| --- | --- |
| Item Number | fab_k3054db |
| Manufacturer Part Number | k3054db |
| Manufacturer | Fabtech |
| Make | Dodge |
| Model | Ram 1500, Ram 1/2 Ton |
| Year Spans | 2006,2007,2008 |
| Lift Height | 6 inch |
| 2WD/4WD | 4WD |
| Notes | Rear springs may reduce load carrying capacity. Will not fit 1500 Mega Cab models. |
| Special | Call for Price Match! |
| Shipping Sale | Free Shipping! |