2006-2016 FJ Cruiser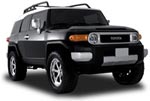 2006-2016 Toyota 2WD FJ Cruiser Suspension Lift Kits.
There are no products matching the selection.
My Cart
You have no items in your shopping cart.
Compare Products
You have no items to compare.
Air Lift Air Bags and Compressors
Questions about suspension lift kits,
body lifts, leveling kits or any other
vehicle part? Don't be afraid to ask!
Talk to us, the Suspension Experts.