Lift Block Kits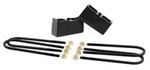 Lift Blocks are used to raise the back end of your vehicle. A block can be used to conjunction with add-a-leafs, stacked on existing blocks or by itself to add height. The advantage of using a block is that it will not increase the firmness of your ride.
There are a few very important rules to remember regarding blocks:
- Never use blocks on the front of your vehicle (Very Dangerous).
- Never stack more than 2 blocks on top of each other.
- We do not recommend more than 6 inches height from blocks. More will cause sever axle wrap.