Extended Radius Arms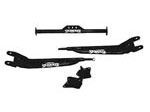 Why do you want to use extended radius arms when you lift your Ford? There are several reasons:
1. Up to 30% better wheel articulation.
2. Improved turning radius.
3. Better tire clearance.
4. Less frame fatigue than caused by radius arm drop brackets.
The bottom line is, in order to get maximum performance out of your lift, extended radius arms are a must. Kits include mounting hardware, bushings, and instructions. (Note: Radius arms will not increase vehicle height, they must be used in conjunction with a lift kit.)
There are no products matching the selection.