Multiple Shock Systems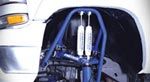 Multiple Shock Systems greatly reduces body roll and improve handling over your vehicle.
Shocks sold separately!
Make

Shock or Stabilizer Type

2WD/4WD

Front/Rear

Price
You have no items to compare.
You have no items in your shopping cart.
If you have any pics of your rig with a kit you got from Jack-It, and were happy with our service, please email me jennifer@jackit.com! We'll feature your truck on our Testimonials page.
Email me your testimonial!
March 1st - May 31st, 2013
Buy 4, get $35 back!
Air Lift Air Bags and Compressors
Have questions?
Email us or Call us!
Email: sales@jackit.com
Toll Free: 1-888-4-JACKIT (452-2548)
Local: (801) 974-7960