Home /
Coil Spring Spacers
Coil Spring Spacers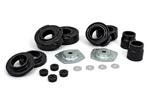 Daystar's Coil Spring Spacers—sometimes called spring pucks—are made out of high quality polyurethane, making them quiet and durable. They help keep vibration from the road or from four wheeling from transmitting back through the vehicle. All spring spacers are sold in pairs.
Ready Lift and Tuff Country Steel and aluminum Coil Spring Spacers are also listed below and come with a limited life time warranty.
My Cart
You have no items in your shopping cart.
Compare Products
You have no items to compare.
Air Lift Air Bags and Compressors
Questions about suspension lift kits,
body lifts, leveling kits or any other
vehicle part? Don't be afraid to ask!
Talk to us, the Suspension Experts.