We do Installs by appointment: Mon-Fri 8AM to 5PM MST
Jack-It, Inc.
1800 West 3500 South
West Valley City, UT 84119

Toll Free: 1-888-4 JACKIT (452-2548)
Local Calls: (801)974-7960
Fax Number: (801)975-6459
Need something installed?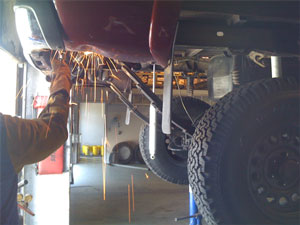 We install everything we sell on our website! We're so confident in our services that we can even install products that weren't bought from us. Just give us a call!
We back our labor with a 1 Year Labor Warranty! Check it out: Labor Warranty.pdf.
If you're not sure about your dealers warranty, click this comprehensive guide: Dealer Warranty Issues.pdf.
Apart from installations, we offer many other services:
- Any and all product installation on and off of our website
- General repair for suspension and 4WD systems
- General suspension check over
- Diagnostics
- Solve any vibration problems
- Solve any death wobble problems
- Lift or lower most vehicle
- Rebuild or re-gear differentials
- And more!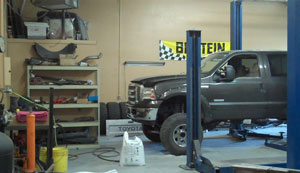 Our services have different labor warranties. Here is the list of our service pricing: Price List.pdf
Some of our top vendors include: Zone Offroad, BDS Suspension, Pro Comp Suspension, Fabtech Motorsports, Rubicon Express, Smittybilt, Teraflex, ReadyLift Products, Bilstein, Daystar, Performance Accessories, Warrior Products, Revetek Suspension, Aries Offroad, Skyjacker, Tuff Country, Trailmaster Suspension, Wilderness (Garvin Industries), ARB, Fab Fours, Luverne, Outlaw Differential Covers, Super Lift and countless more!
Our labor rate is a competitive $110 an hour!

What are some specific things that we install? Well we're glad you asked!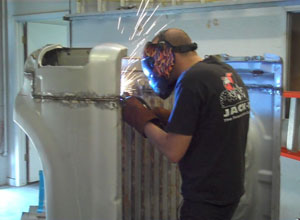 - Suspension Lift Kits!
- Leveling Kits!
- Body Lift Kits!
- Front end components
- Tie rods
- Ball joints
- Wheel bearings
- Differential re-gears and rebuilds
- Transfer case repair
- General wiring
- Any and all lift kits
- Bumpers
- Fenders flares
- Nerf bars
- Steps
- Exhaust systems
- Engine performance mod
- Air intakes
- Chip
- Rock Sliders
- Exhaust
- Wheels and tires
- Diagnostics
- Suspension check overs
- Chasing down weird noises
- Vibrations
- Death wobble issues
If you can't find what you're looking for, not sure what you need or just want to shop around, give us a call or come and visit our shop!
We do Installs by appointment: Mon-Fri 8AM to 5PM MST
Jack-It, Inc.
1800 West 3500 South
West Valley City, UT 84119

Toll Free: 1-888-4 JACKIT (452-2548)
Local Calls: (801)974-7960
Fax Number: (801)975-6459