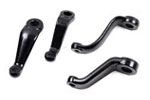 Use our Year/Make/Model search on the left
to find your Steering Corrections.

When a truck is lifted above the manufacturers factory height, the steering geometry is changed. Depending on your truck and how high it is lifted, the angles of the steering components can be affected enough to cause steering problems and prematurely wear out steering components. Steering problems include "bump steer", poor "memory steer" and "reduced turning radius."