Need help? Call the Suspension Experts! 888-452-2548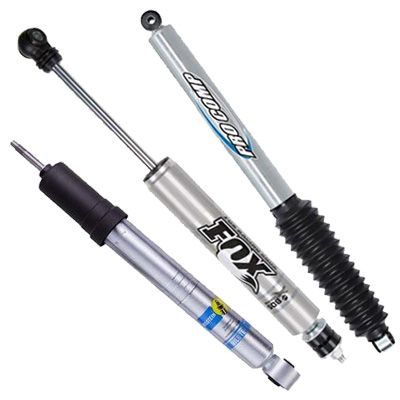 If you are looking for an upgraded shock over your standard twin tube shock you should consider one of the Pro Comp Pro runners, Bilstein 5100/4600's or FOX 2.0 series shocks.
The Pro Comp Pro Runner is a great shock at an affordable price. This is a great shock for a daily driver that see's moderate off road use.
The Pro RunnerTM Monotube shocks deliver the most "bang for your buck". At the heart of the shock is the gas-charged monotube design that delivers superior performance compared to traditional twin tube shocks. The brushed and zinc-plated, clear coated monotube body is nitrogen gas pressurized to eliminate performance-robbing cavitation during compression and rebound. This allows the shock to dissipate heat more efficiently. The Vehicle Specific Ride Tuning (VSRT™) in each shock was derived using extensive dyno and real world testing. The result is multi-stage valving to optimize the ride and handling characteristics for each application. Whether you are towing a trailer or hitting woops in the desert, you can count on Pro Comp Pro Runner™ monotubes to give you the confidence behind the wheel.


The Bilstein 4600 & 5100 series shocks are a step above the Pro Comp. These are a great riding shock on and off road.
The original mono-tube gas pressure shock absorbers bore the BILSTEIN name, and we're still responsible for producing the best there is. BILSTEIN's mono-tube technology is the number-one choice in motorsports and series-production sports cars: no other type gives engineers the same freedom to choose the perfect installation location or position (e.g. Upside-Down technology).
Large effective surface on the working piston creates increased damping power and better handling
Improved dissipation of thermal energy outwards enables a consistently high level of absorber performance
Sturdy structure for added safety in Upside-Down Technology

FOX shocks are geared more towards off road use. These shocks will be a little stiff on road but are top of the line for off road use.

The 2.0 Performance Series IFP smooth body shocks contain the latest in shock technology to transform the performance of your Truck or SUV. They use our race-proven damping control to provide a comfortable on-road ride and predictable offroad handling in even the toughest conditions. The precision metal impact aluminum body increases cooling capacity and will never rust. Inside you will find our race-proven performance valving technology Our Internal Floating Piston (IFP) mono-tube design separates the shock oil from the high-pressure, nitrogen-charged gas chamber. The IFP eliminates oil aeration allowing maximum performance from the factory-tuned precision valving. The race developed high flow damping piston matched with application specific vavling provides the 2.0 Performance Series IFP shock a predicable ride quality capable of handling the roughest road conditions.