Control Arms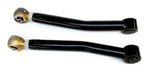 Use our Make/Model/Year search on the left
to find your lift blocks.

These control arms allow custom pinion and caster angles to be set for proper alignment, they also are used to re-center the axle in the wheel well for proper suspension movement. If you want extra flex for off-roading, but don't want to sacrifice on-road handling, upgrade your control arms on your stock or lifted truck!